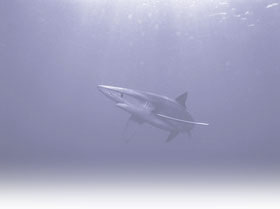 Shark Studios specializes in the rapid deployment of enterprise solutions that are feature rich, easy to use, and scalable. Shark Studios uses OpenWater™, its eBusiness enterprise software suite to manage complex projects and to promote communication and client independence. Our customized Content Management solutions allow our clients to make changes to their website easily, using a simple browser with internet connection anytime, anywhere.

Our expertise is focused on helping our clients attain competitive advantages from today's cutting edge technologies. We help to attract, retain, and transact business with customers, while eliminating inefficiencies in operations and improving business infrastructure.

Invisible Among a Sea of Competitors?

Shark Studios provides dynamic marketing solutions across a variety of interactive and print mediums, to deliver highly successful results for our clients. With a wealth of experience at hand, our objective is to deliver digital initiatives that engage the client and their customers; ultimately ensuring that the return on investment exceeds expectations.
We Think From a Business Point of View

Shark Studios is a business-driven company. When we are hired, not only do we think about the most efficient technology solution, but we also study, research, analyze and become one with our clients, business and industry. This is essential, for without a good understanding of both the competitive landscape and solid business practices, the appropriate technology solution isn't always discovered. If a project doesn't make sense, we will recommend and help form an appropriate strategy. We have been successful over the years because our focus has always been the ultimate success of our clients.

We Are Client Centered

Our commitment to client service and cutting edge technology is the foundation for our business. Above all else, it is why we have been able to build relationships with so many clients, including some of today's largest and most demanding companies.

We Are Passionate About Technology

The pace of technological change today is staggering. Most companies, including large Fortune 500 companies, must focus on their customers, their products, their market, and their competition. They cannot possibly stay current on the latest technologies. At Shark Studios, we are passionate about our responsibility as a technology partner to our clients. We research the latest technology trends and immerse ourselves in new applications. This allows our clients to focus on what they do best.

| | | |
| --- | --- | --- |
| | | E-business and Technical Consulting |
| | | In the e-business consulting phase, our team works closely with our client's business and technical personnel to acquire a clear understanding of the client's goals and objectives. From there, using a broad range of skills including domain, technical and operational expertise, the team creates an e-business plan which will define the current engagement and provide a model for future innovations. |
| | | |
| | | Design and Development |
| | | Our team works closely with our client's technical personnel to create a detailed architecture for an efficient e-business system that can be fully-integrated into our client's existing systems. We research existing technologies, including software solutions available from Shark Studios and its technology partners, for use in the client's system. We then construct the various components of the system, test the components, integrate them into a complete and fully integrated e-business solution, and then thoroughly test the result. |
| | | |
| | | Application and Systems Integration |
| | | Today's enterprises often have sizable investments in existing systems. Shark Studios belief in leveraging a client's existing investment means offering best-in-class integration services to manage our client's investment effectively. All of our solutions are geared towards integration into existing systems to the greatest degree possible. |
| | | |
| | | Technology Management and Support |
| | | Shark Studios support of our clients doesn't end with the delivery of a cutting edge, fully-integrated e-business solution. We train system users and can maintain the stability and effectiveness of that solution with 24/7 support. We always maintain close relationships with our clients and assist them in every part of the management and enhancement of their systems. |

Services we offer include:

e-business and technical consulting
Design and development
Application and systems integration
Technology management and support
Database development
Intranet/Extranet development
E-commerce applications
Graphics design
Identity creation
Website promotion
Web hosting
Training